An Old Man of the Hills & the Schoolmaster's Story
Dryades Theatre Group presents
AN OLD MAN OF THE HILLS, AND
THE SCHOOLMASTER'S STORY
Saturday 4 March 2017 at 7 pm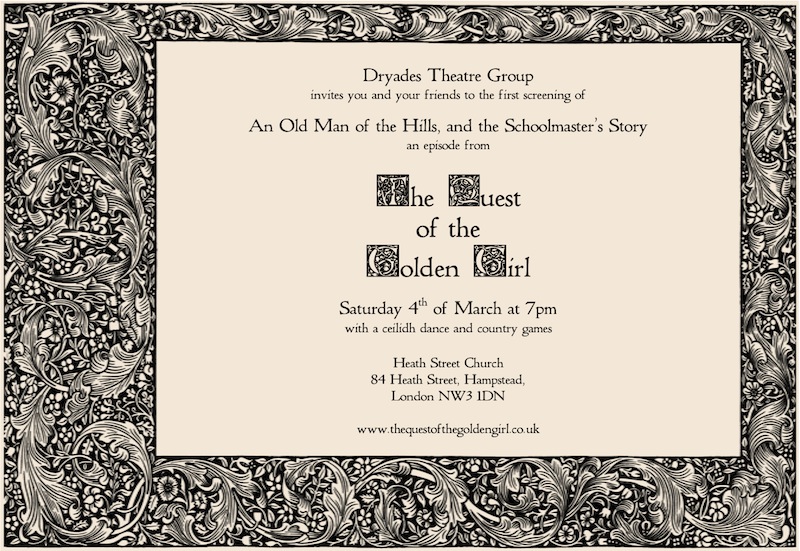 Free admission.
At Heath Street Baptist Church. See map and get directions.
www.thequestofthegoldengirl.co.uk
---
An Old Man of the Hills, and the Schoolmaster's Story is a chapter from Richard Le Gallienne's novel The Quest of the Golden Girl.

CHAPTER PLOT: One sunny May morning in 1890, a charming man called Richard walks across the Surrey Hills. He is on a quest for 'The Golden Girl'. He meets an old man who tells him a fascinating tale of local romance: the love affair between the charismatic village schoolmaster and the Lord of the Manor's graceful wife. Richard, a lonely man on a quest for love, is deeply inspirited by the beauty and significance of the story. Parting ways with the old man, Richard rambles down a luscious green path to the enchanting woodland clearing where the lovers used to meet, enthralled by the notion that, in a phrase: "We never know at what moment we are treading sacred earth!".

During summer 2016, marking 150 years since his birth, Dryades Theatre Group produced a short film based on this chapter in Richard Le Gallienne's novel. An Old Man of the Hills, and the Schoolmaster's Story is shot in a painterly 'Pre-Raphaelite' style – attentive to nature, rich in colour and full of symbolism. With poetic narration throughout, the story is told fluidly; past and present intertwine, overlap and become one as shots dissolve between present and past, day and night, and colour and black & white. A late-Victorian romance of medieval sentiment, it is a film of spring; a journey on foot, depicting the ancient English woodlands, articulating the echoes of the past and the companionship they give us through folklore, and, ultimately, celebrating passion, interaction and connection.