Tuesday concerts
Heath Street Arts present
TUESDAY CONCERTS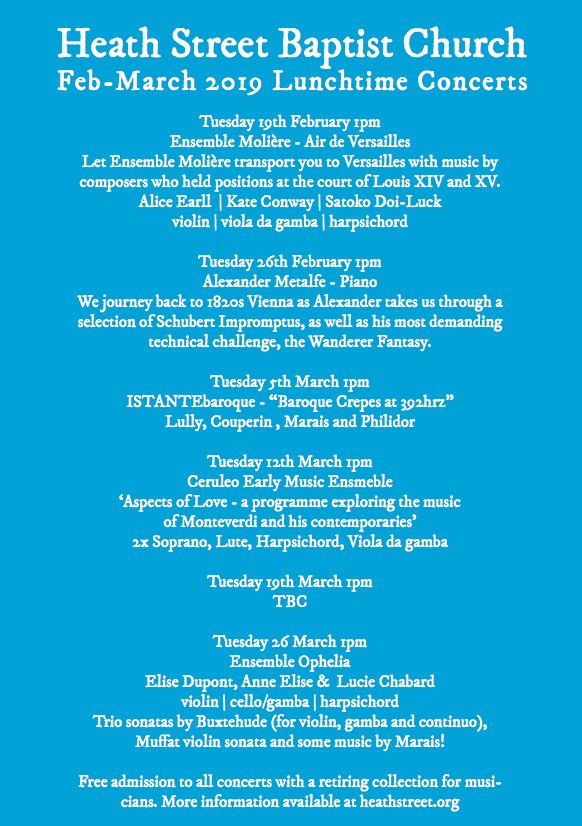 Informal recitals featuring music students and others.
Lunchtime concerts at 1 pm and 'rush hour' concerts at 6 pm.
Free admission - retiring collection for musicians.
Held at Heath Street Baptist Church - see map and get directions.
People of all ages (including children) are welcome to enjoy the informal nature of the concert, and you can come and go as you wish.
There is step-free access at the church, and wheelchair users are welcome.
Contact John-Henry Baker on 07840 456593 or johnhenry@heathstreet.org.
Sign up to the mailing list here.
Schedule
19 February 2019

1:00 pm

Ensemble Molière

(Alice Earll - violin, Kate Conway - viola da gamba, Satoko Doi-Luck - harpsichord)

Air de Versailles

Let Ensemble Molière transport you to Versailles with music by composers who held positions at the court of Louis XIV and XV.

26 February 2019

1:00 pm

Alexander Metalfe

(Piano)

We journey back to 1820s Vienna as Alexander takes us through a selection of Schubert Impromptus, as well as his most demanding technical challenge, the Wanderer Fantasy.

5 March 2019

1:00 pm

ISTANTEbaroque

Baroque Crepes at 392hrz

Lully, Couperin , Marais and Philidor.

12 March 2019

1:00 pm

Ceruleo Early Music Ensemble

(2x soprano, lute, harpsichord, viola da gamba)

Aspects of Love

A programme exploring the music of Monteverdi and his contemporaries.

19 March 2019

1:00 pm

To be confirmed.

To be confirmed.

26 March 2019

1:00 pm

Ensemble Ophelia

(Elise Dupont, Anne Elise and Lucie Chabard: violin, cello/gamba, harpsichord)

Trio sonatas by Buxtehude (for violin, gamba and continuo),
Muffat violin sonata and some music by Marais!