Mad Song and Rebekah Jones
Tuesday 21 November 2023 at 8:00pm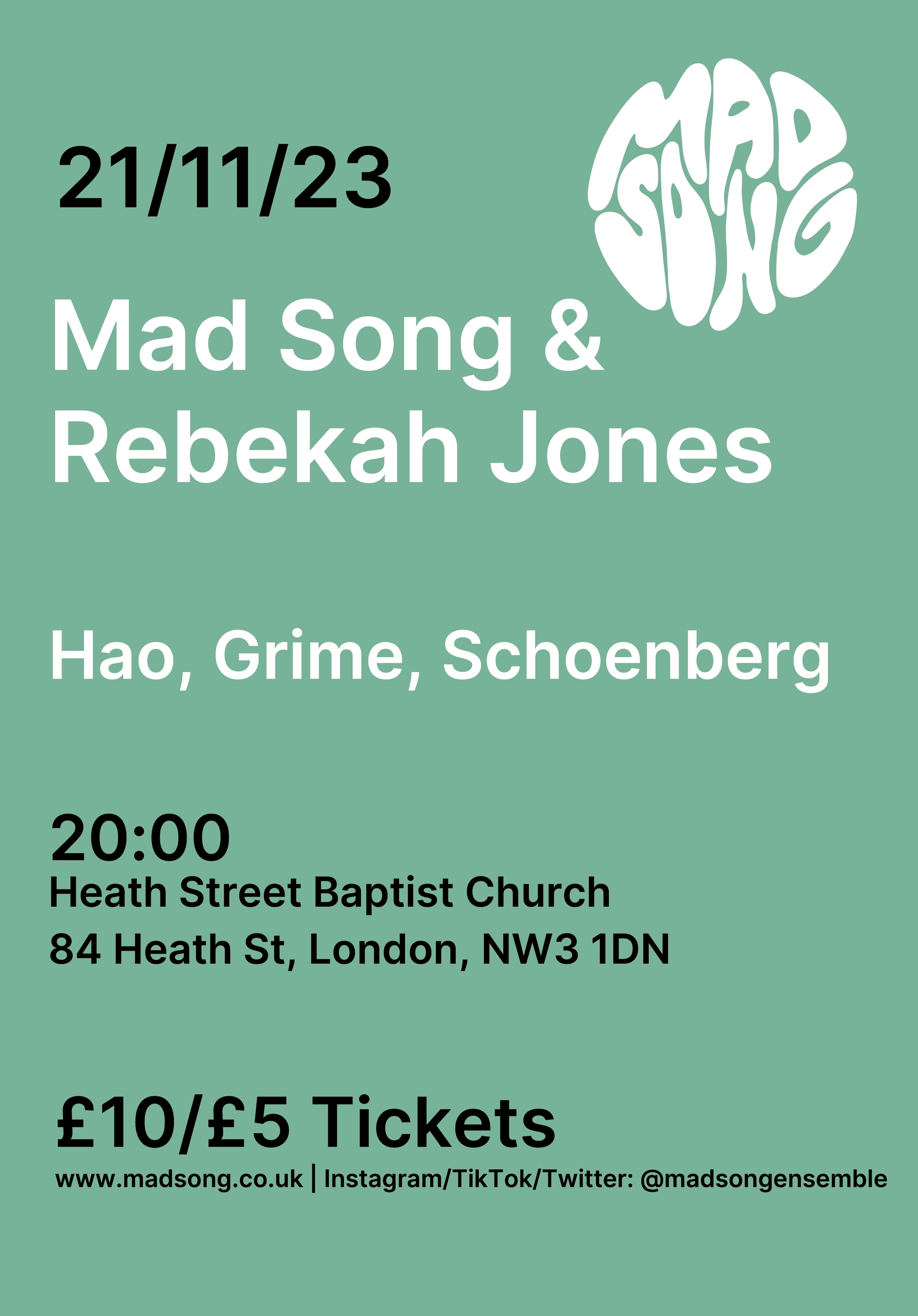 Rob Hao, Commedia
Helen Grime, Seven Pierrot Minatures
Arnold Schoenberg, Pierrot lunaire
Mad Song are a dynamic young ensemble who specialise in performances of 20th and 21st century music. Founded in 2019 they have become renowned for their committed performances, particularly of Sir Peter Maxwell Davies' Eight Songs for a Mad King, which they have performed around the UK. Their performance at the Aberystwyth Festival was lauded for its 'brutality and raw energy' (David Campbell) and their playing has been described as 'beyond praise' (Seen & Heard International).
Mezzo soprano Rebekah Jones read music at King's College London and studied on the Masters course at the Royal College of Music as a Leverhulme Arts Scholar under the tutelage of Tim Evans-Jones. Known for her versatility and exceptional musicianship, Rebekah's solo career highlights include the roles of the Angel (Elgar's Dream of Gerontius - Dorking Halls 2021) , Mrs Lovett (Sweeney Todd - RCM Scenes 2020), Waitress/Mother (Greek - RCM scenes 2019), Alisa (Lucia di Lammermoor) with Fulham Opera, reprised at Grimeborn 2018, performances of Bach's B Minor Mass at St John's Smith Square (Winter 2021) and the St Endellion Music Festival (Easter 2017), Bach's St Matthew Passion at Chichester Cathedral (Easter 2019), masterclasses with Michael Chance and Sir Thomas Allen (RCM, Summer 2019) and performing as part of the Winter 2016-17 season at Shakespeare's Globe Theatre.
They come together for a concert celebrating Schoenberg's masterpiece, Pierrot lunaire. The 21 songs of Schoenberg's melodrama will be preceded by Helen Grime's beautiful Pierrot Miniatures, inspired by other poems about the Pierrot character by Giraud. Opening the concert is the second performance of Rob Hao's Commedia, a contemporary take on the Commedia dell'arte tradition that inspired Schoenberg.